LED Electronic Blank-Out Signs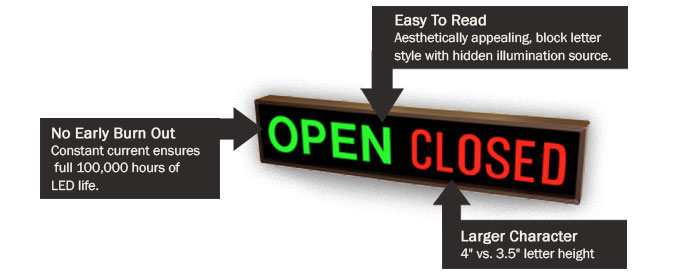 The Phēnix series LED signs (PHX), are designed with the same super bright LED technology used to light new car headlights and the New Years Eve countdown ball in Times Square!
PHX series LED signs boast an appealing block letter style face and are the smart replacement for our old neon and incandescent signs because they fit the same cabinet footprint and the sharp new look makes this the ideal product to use when upgrading a bank drive-thru. Phēnix, the Green choice in outdoor backlit signage, uses up to 90% less energy and is guaranteed readable even on the sunniest days without a visor!
All PHX series LED signs offer a standard universal 100-240VAC input and are equipped with a constant current, switch mode, LED power supply. The message, message color and frame color can all be customized to your specifications.
The PHX series LED signs are UL/cUL listed. At only 2.5" deep, the PHX series LED signs have a low profile that is ideal for surface mounting. In addition to surface mount, the PHX series signs are great for recessing.

Phēnix Features and Benefits
Illumination:
Light Source:
High-intensity, LED reflected, backlit illumination
Colors:
Red, Green, Blue & White
Life Expectency:
over 100,000 hours
Electrical:
UL/cUL
Universal Input 100 - 240VAC
Constant current, switchmode, LED power supply
Materials and Construction
Cabinet:
Continuous, extruded aluminum, 2.5" in depth
Cabinet Finish:
Duranodic Bronze, custom paint colors available
Backlit Message Panel:
Translucent black acrylic, 1/8" thick Vinyl message applied in a reverse stencil cut on second surface
Application:
Outdoor blank-out use
Mounting:
Standard:
Lift'n Shift standard wall mount design for easy installation and maintenance
Optional:
Recessed mount, ceiling mount, side mount, angle mount, swivel mount, double and single post mounts
Benefits:
Guaranteed viewable in direct sunlight
Message blanks-out completely when off
Designed for outdoor use and high vibratory conditions
Consumes 75% less energy than comparable neon backlit signs
Is 50% brighter than most neon backlit designs
5 Year Warranty
Quick Turnaround:
Same-day shipping for in-stock items
1-Week lead time all other messages
Phēnix Cabinet Sizes

Phēnix Custom Options
Directional Systems can customize Phenix Outdoor LED Backlit signs to display virtually any monochrome message or logo.
| | |
| --- | --- |
| Message Options | Communicate what you want, all Phenix backlit signs can be customized with virtually any monochrome message or logo. |
| Character Styles | Choose the character style by the character size, font and upper/lower case letters. The Phenix series will accommodate up to a 3.75" high character, depending on the size of the sign and the length of the message. |
| Logo or Graphic | Include a logo or graphic to bring more attention to a sign or message. The Phenix series will accommodate graphics or logos up to 3.75" high. Graphics may include anything from warning symbols such as DO NOT ENTER or handicap symbols to shapes like Arrows, Circles, Pedestrians or the Shape of a Hand. |
| Multi-lingual Messages | Just like were not limited to words, we are not limited by language. You can also design signs to include other languages and create multi-lingual messages Spanish, French, German, Arabic, Chinese, etc. |
| Customize the Cabinet | All cabinets can be painted to match any color upon request. You can also customize a cabinet by including hoods or special mounting. |
| Voltage | We understand project require different voltages for different applications. All Phenix series signs offer a standard Universal 100-240VAC input and are equipped with a constant current, switchmode, LED power supply. |