Illuminated Parking Entrance and Exit Signs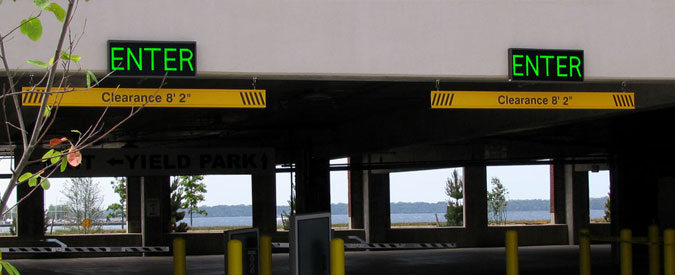 Lighted signs help motorist quickly identify garage and parking lot entrances. Whether you need to identify specialty entrances, such as permit only, monthly and public parking, or you just want to avoid confusion by preventing customers from entering areas specified for exit traffic, we have a sign that is sure to meet your needs. We have superimposed "OPEN/FULL" signs, directional arrow signs, "Wait for Gate" signs, and even signs that let you change from "Entrance" to "Exit".
Exiting a parking garage can be a confusing process for motorists. Proper parking exit signage can avoid confusion and alleviate stress by properly illuminating exits with signs such as EXIT ONLY, EXIT HERE or NO EXIT. Our exit signs can even be customized to identify specific parking exits such as HAMPTON ST EXIT or SOUTH EXIT.
Browse our large selection of backlit LED and direct view LED parking entrance and exit signs, if you cannot find the message or size you need, or you would like to customize your sign, such as "Main Street Parking Entrance" or "Welcome to Center Mall Parking Garage", then complete our quote form and we'll send you a free quote.
Browse Illuminated Parking Entrance and Exit Signs