LED Parking Signs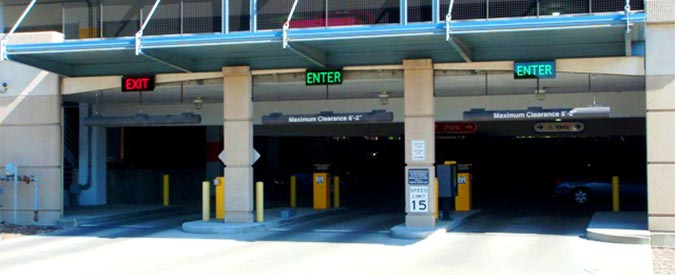 View Our Parking Photo Gallery
Our LED parking signs effectively communicate directional information in a parking garage/lot and make the facility safer for both pedestrians and motorists. Many hospitals, airports, casinos, and school campuses have utilized our LED parking signs to clearly mark entrances and exits, cashier lanes, and display payment methods accepted. In addition, they have used our signs to warn pedestrians about a vehicle exiting, as well as promote special event parking. We know each parking situation is different that is why we offer the ability to customize our signs as you require. Our signs have a quick lead time and are easy to install and maintenance free.
Browse our categories
Entrance and Exit Signs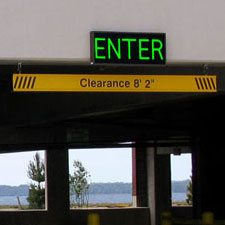 Our LED signs are a great way to separate entrances from exits, and pinpoint specialty parking areas. Entering and exiting a garage can be confusing, but adding our LED parking signs to show whether the garage is open or full, denote exits, and/or mark closed exit lanes.
browse products
Cashier Signs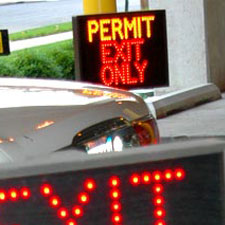 Our LED parking cashier signs inform drivers of payment amounts due, payment methods accepted, as well as show lane status. Customize the sign for your garage needs like permit only, cash/credit card, or monthly pass.
browse products
Clearance Bars Signs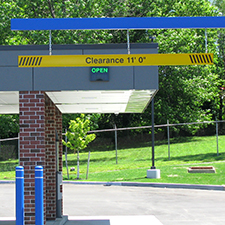 Our hanging clearance bars will give a visual notification with the bright yellow color and reflective copy. In addition to a visual stimulus, a physical impact to an overheight vehicle entering the structure will also be given.
browse products
Warning Signs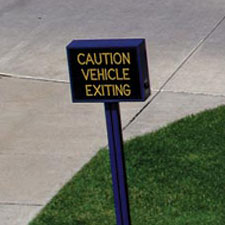 Our LED parking warning signs are used to bring attention to pedestrians that a vehicle is approaching, or warn a motorist of a pedestrian crossing within or at the exit of the garage. We can customize our warning signs to your parking safety situation.
browse products