SBLF Series - Full Face Illuminated Signs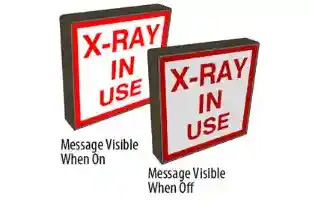 Class: SBLF Series
Sign Use: Interior
Description: Indoor Full Face Illuminated LED Sign
Our indoor SBLF Series signs are characterized by their "white face" and colored vinyl message; that is visible without being illuminated. The message is enhanced when the sign is activated to light by either a switch or external relay.
The SBLF Series sign face entirely illuminates and allows the whole surface area to be used for the message. Unique engineering of this product has eliminated "hot spots" that occur on other "light box" type signs.
The SBLF Series signs are UL/cUL listed. The SBLF Series signs come equipped with a back panel that is ideal for surface mounting. Recessed mounting as well as other mounting options are available upon request.
The message, message color, frame color, and cabinet size can all be customized. Low voltage is available upon request at an additional charge. Each sign is engineered with a solid state circuit board and switch mode power supply that under drive the LED for maximum LED life. Switches sold separately.
Message Face
1/8" polycarbonate with a translucent face color,
Standard font: Swiss 721 Bold BT
Custom font styles, full color symbols and graphics available
Message always readable and can be illuminated for added emphasis
Illumination
Light Source
High-intensity, LED (light emitting diode) backlit illumination
LED Colors
White
Life Expectancy
Over 100,000 hours
Electrical
Input voltage: 120-277VAC or low volt 12-24VDC
Constant current power supply
UL/cUL Listed
Cabinet Construction
Single-faced; double-faced signs up to 14"h x 18"w
2.25" deep extruded aluminum frame
Double-faced signs larger than 14"H x 18"W
Available, requires custom engineering
Cabinet Depth
Single Faced: 2¼"
Double-faced up to 14"H x 18"W: 5½"
Double-faced over 14"H x 18"W: 7½"
Cabinet Finish
Standard finish: Duranodic Bronze. Custom paint colors available.
Mounting
Built-in Lift'n Shift wall mount for easy installation and maintenance
Other Mounting Available
Recessed, ceiling, post and angle mount. Mounting sold separately.
Benefits
Message is always visible and is enhanced by illuminating
Designed for outdoor use
Consumes 75% less energy than comparable neon backlit signs
50% brighter than most neon backlit designs
2 Year Warranty