TCIL Series - Traffic Control LED Indicators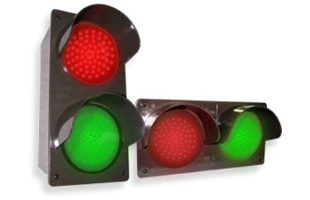 Our TCIL Series signals consume a low amount of energy and come standard with a replaceable LED circuit board. The signal housing and hood construction is injection molded, impact resistant polycarbonate with two tinted lens covers. It is available in a horizontal or vertical orientation and units ship with any two combinations of red, green, blue, amber or white LEDs. Signals can be programmed at the factory to alternating flash or flash in unison.
TCIL Series signals are available with an input voltage of 120-277VAC or 12-24VDC. Units are UL/cUL Listed for wet locations. The signal housing can be used for surface mounting. Ceiling, post and recessed mountings are also available. The standard housing and hood finish is Duranodic Bronze; custom paint colors are available. TCIL Series signals can be controlled with a switch of third party relay.
TCIL Signal Features and Benefits
Illumination
Light Source:
Super bright LEDs on a replaceable circuit board
Lens Colors:
Red, Blue, Green, Amber, White
Life Expectancy:
Over 100,000+ hours
Electrical
120-277 VAC Standard, optional voltage: 12-24VDC
UL/cUL Listed for wet locations
Materials and Construction
Cabinet:
Injection-molded Lexan® cabinet 3" deep, with Lexan® hoods 3" Deep
Cabinet Finish:
Duranodic Bronze, custom paint colors available
Lenses:
Smooth injection-molded, impact resistant Lexan® lenses
IP/NEMA Rating:
IP55/NEMA 3R
Mounting
Vertical or horizontal orientation with standard wall mount
Optional mounting:
Single post, side mount, ceiling mount, recessed frame mount, angle mount and swivel mount
Applications:
Outdoor and indoor use
Benefits
Low power consuming
5-year warranty
Viewable in direct sunlight
Light weight, easy to install and maintain