TCL Series - LED Direct-View Signs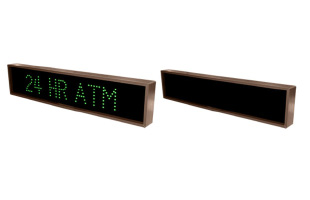 Class: TCL Series
Sign Use: Exterior
Description: Outdoor Direct-view Blank Out LED Signs
Direct view LED signs show the LEDs in a particular pattern to create the actual message. Extremely versatile, messages can be multicolored, superimposed for multiple messages, and virtually any size you require. Our direct-view LED signs are common in drive-thrus, parking garages, vehicle service bays and other applications where lane control is desired.
Using surface mount LED technology, our LED signs are constructed with super-bright, wide viewing angle LEDs to ensure easy readability, even in direct sun. These energy efficient traffic controllers can lower your maintenance costs with no bulbs to replace, and reduce your energy costs by 90%. The TCL Series signs are considered virtually maintenance free for 100,000 + hours even in the most extreme conditions.
LEDs allow for superimposed messages, subsequently reducing the required size of your sign cabinet. For example, an OPEN CLOSED or ATM OPEN CLOSED message sign can be reduced to one half of its original size by overlaying OPEN and CLOSED. Signs can be single faced or double faced (messages on both sides). Custom messages are available without the associated custom prices. These LED message signs are available with short lead times.
Message
Message blanks out (disappears) when off
Stock and custom messages available
Illumination
Light Source
Wide-angle, super bright LEDs
LED Colors
Red, Green, Blue, White or Amber
Life Expectancy
Over 100,000 hours
Electrical
Input voltage: 120-277VAC or low volt 12-24VDC
UL/cUL Listed for wet locations
Cabinet Construction
Single-faced; double-faced signs up to 14"h x 18"w
2.25" deep extruded aluminum frame
Double-faced signs larger than 14"H x 18"W
Corrosion resistant, extruded aluminum frame with two hinged faces. 7.5" deep, mitered construction. Moisture absorbent interior coating 1/8" thick smoked-tinted, polycarbonate face panel
Cabinet Depth
Single Faced: 2 ½"
Double-faced up to 14"H x 18"W: 5½"
Double-faced over 14"H x 18"W: 7½"
Cabinet Finish
Standard finish: Duranodic Bronze. Custom paint colors available.
Temperature and Humidity Ratings
The cabinet and sign components shall operate in the following temperature and humidity conditions:

Operational & storage temperature range: -40°F to +165°F
Humidity range: 0% to 99% (non-condensing)

IP/NEMA Rating
IP55/NEMA 3RX
Mounting
Built-in Lift'n Shift wall mount for easy installation and maintenance
Other Mounting Available
Recessed, ceiling, post and angle mount. Mounting sold separately.
Benefits
Guaranteed viewable in direct sunlight
Message blanks-out completely when off
Designed for outdoor use
Consumes 75% less energy than comparable neon backlit signs
50% brighter than most neon backlit designs
5 Year Warranty