MEN w/Symbols - SBLF1212W-A269B(38879)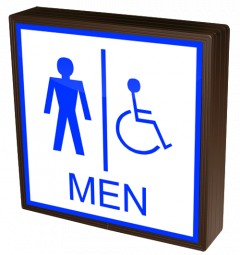 View more/larger photos by clicking on the image.
MEN w/Symbols
Estimated to ship on 07/29/2019 if ordered today before 3pm ET.
Item Details
Installation & Wiring
Switches & Mounting
Warranty
| | | | |
| --- | --- | --- | --- |
| Item Number: | 38879 (SBLF1212W-A269B) | Product Line: | |
| Dimensions: | 12" H x 12" W x 2.25 | Weight: | 3.004 lbs. |
| Faces: | Single Face | Color: | Blue Translucent |
| Input Voltage: | 120-277 VAC | Face Material: | 1/8" White White Acrylic |
| Finish: | Duranodic Bronze | Illumination: | SBLF LED |
| Cabinet: | PHX 2.25" | UL/cUL Listed: | UL Listed |
| Flashing: | Not Included | Warranty: | 2 Year Warranty |
2 Year Warranty
Our warranty starts from the original date of shipment and runs through the life of the stated warranty period. Should any component become defective during the warranty period, the component or entire unit, at the discretion of Directional Systems, will be replaced at no charge to the customer; this excludes labor cost to remove and/or reinstall the component or unit.
To learn more about our warranty, click here.

This SBLF Series MEN w/Symbols indoor, LED backlit sign features a block-style message that is readable without illumination. The message is viewable when off and can be illuminated to add emphasis to the message or to optimize readability in low light conditions.

It is engineered with a solid-state circuit board and switch-mode power supply for maximum LED life. The cabinet is constructed of corrosion-resistant, extruded aluminum and ships with our Lift'N Shift back for wall mounting. Ceiling, post and wall-projection mountings are available. Standard cabinet finish is Duranodic Bronze; custom paint finishes are available. Sign can be controlled by a switch or third-party relay. Control switch can be purchased separately. UL/cUL Listed. Manufactured in the USA.
We also recommend the following: