Mast Arm Post Mount with Base Plate - MAP120B12(21634)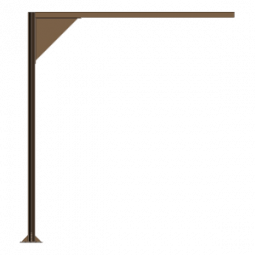 View more/larger photos by clicking on the image.
Mast Arm Post Mount with Base Plate
Estimated to ship on 08/12/2019 if ordered today before 3pm ET.
| | | | |
| --- | --- | --- | --- |
| Item Number: | 21634 (MAP120B12) | Product Line: | MAP (Mast Arm Post) |
| Dimensions: | 120" H x 108" W x 12 | Weight: | 65.12 lbs. |
| Finish: | Duranodic Bronze | Warranty: | 1 Year Warranty |
1 Year Warranty
Our warranty starts from the original date of shipment and runs through the life of the stated warranty period. Should any component become defective during the warranty period, the component or entire unit, at the discretion of Directional Systems, will be replaced at no charge to the customer; this excludes labor cost to remove and/or reinstall the component or unit.
To learn more about our warranty, click here.

The Mast Arm Post mount is constructed using two individual posts that intersect at 90 degrees. The upright is a 4" x 4" extruded aluminum posts with 12" x 12" welded base plate. Base plate is a 3/8" thick aluminum plate with predrilled anchoring holes and 4 - 4" high welded gussets. The horizontal is a 2.25" x 3" post. The upright and horizontal posts are secured using a structural gusset that is an 18"h x 18"w x 3/8"d aluminum plate. Finish is Duranodic Bronze, unless otherwise noted. For use with a single Clearance I-Bar up to 6ft long only.