1. Navigation
Directional LED signs give customers a sense of direction around your facility's campus. For example, In a parking garage, ENTER/EXIT, DO NOT ENTER, LEFT TURN ONLY signs help customers navigate where they should or shouldn't go.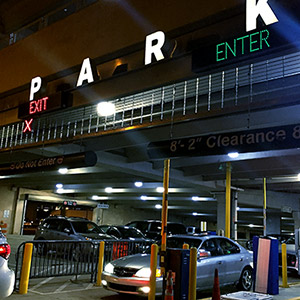 2. Avoid confusion
Signs help clarify which lanes are available for customer use. For example, at a financial drive-thru, an Open or Closed message allows customers to move more efficiently to an open lane.
3. Avoid potential structural damage
Warn over height vehicles entering your parking garage or drive-thru with an aluminum clearance bar. These clearance bars display the height restriction of your facility before vehicles enter. If an over height vehicle tries to enter, they will come in contact with the clearance bar before hitting your building, letting them know they are over height.
4. Curb Appeal
Bright, easy to read LED signs are eye catching and add to the aesthetic attractiveness of your facility. In a 2019 article from Microsoft they discuss the importance of curb appeal for companies and how to attract customers. They state that a key to boosting business is to have visible and identifiable signage.
5. Additional Safety
Give a visual and/or audible warning to vehicles or pedestrians at exits. For example, a CAUTION VEHICLE EXITING sign can have accessories such as flashing and/or an audible alarm to warn pedestrians of unexpected exiting vehicles.
These are just 5 examples of the added value high-quality signage brings and how signs can make an impact on the flow of traffic at your facility.